Through the application of NFT technology, the digital art realm is undergoing a paradigm shift, shattering the constraints of intermediaries and unleashing a transformation in the artistic landscape. Blockchain technology has encouraged creators to explore new possibilities, leading to a unique exchange of ideas among artists from different parts of the world. This has resulted in the growth of global artist communities that share a love and passion for art.
Countless tales abound of a kinship discovered, where individuals were finally able to unleash their artistic potential, free from the shackles of conformity. The unifying force of familial ties transcends all boundaries - be they geographical, cultural, religious, or national - and underscores the essential humanity that unites us all. A digital renaissance is underway, with art at the vanguard of technological innovation, paving the way towards a future where individuals are empowered to chart their own course.
Linked by Art, NFT fine art metaverse exhibition 
In this exhibition an exquisite ensemble of divergent perspectives unites to explore the nuances of this theme, expressed through a kaleidoscope of artistic media. From video installations to animation, illustration, generative art, music, or collage - this exhibition showcases a rich tapestry of creative expression that transcends conventional boundaries. Some works seamlessly meld physical and digital elements, while others showcase innovative techniques and one-of-a-kind approaches to art-making. With artists hailing from disparate corners of the globe, each piece speaks to a unique narrative. Together, they tell an interesting story about the lively web3 culture and invite everyone to explore it deeply.

The fetal pose resurfaces in Illustrate's work,
"Anxiety"
, where a hybrid creature, monster-human, blossoms with organic elements emanating from her form. Though isolated in her growth, the creature remains connected to her surroundings, maybe symbolizing the interconnectivity that binds us all as humans. Loneliness is also the subject in Al Rum's piece,
"Re-connection"
. It delves into the notion of solitude and the paradoxical interconnectedness between solitary individuals in the digital age. The visual representation of the network of connections resembles the roots of nature, as also seen in
"Like Follow Retweet Obey"
, by Choen Lee, which offers an insightful observation about the human experience in the metaverse. This works asks questions about human connections and reminds us that our innate need for connection is what ultimately binds us together.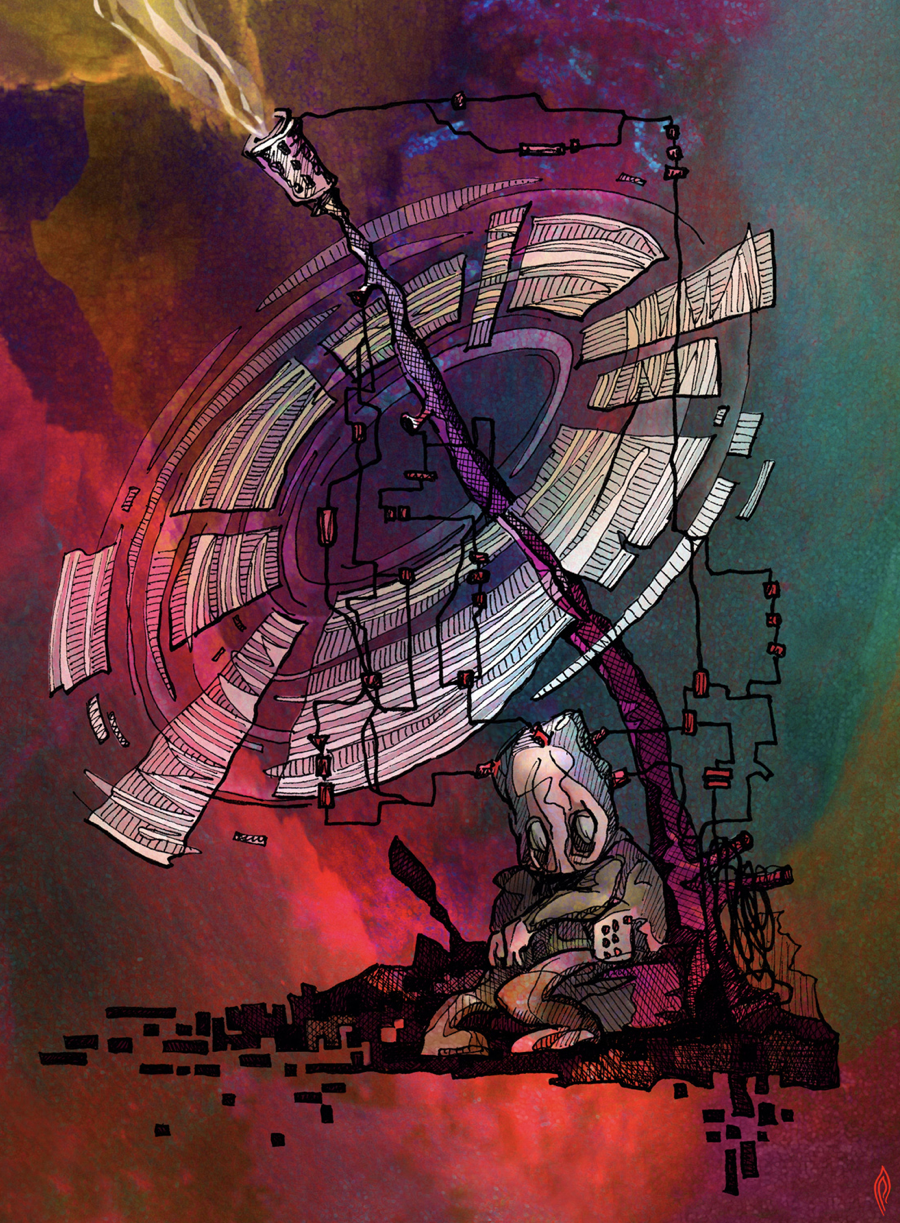 The fusion of physical and digital art creates a captivating creative process that imbues works with a deeper layer of meaning. Some artists who explore this process incorporate natural materials into their pieces, resulting in captivating works of art. Dodsicle, for example, creates digital collages using pressed flowers, as seen in her piece
"Spiraling",
 which captures a delicate, swirling movement using the petals. Similarly, Jacob's
"She"
was constructed using the spores of three different mushrooms, layered using stencils, thus creating a profound connection between the artist, nature, and paper. These works are a testament to the power of slowing down and forging a deeper bond with the natural world. Do web3 connections drive us apart and breed loneliness, or do they bring us closer to our fundamental human nature?
The exhibition also features a compelling theme of returning to childhood and rediscovering the universal joy that connects us all.
Joe Martin's
oversized
pom-poms
are a delightful addition, meant to bring a smile to people's faces. Their vibrant colors echo the hues of the rainbow in the works by
EItzi,
WeirsNFT, and
Suzuki Eric
, adding an optimistic touch. These artists tap into the primal essence of play and celebration, infusing their pieces with a sense of childlike wonder that resonates with viewers of all ages.
In the same way, music is an art form that resonates deeply within us and transcends cultural and linguistic barriers, connecting us all.
Peperoncino
's work,
"THE ART of SOUND"
, showcases the power of art and music to
"
evoke deep emotions and stir the senses
,"
painting a vivid picture of the human experience. This same vision is echoed in
Ali Taghvaei's
light painting photography, which features dancers surrounded by letters painting a mysterious word around their body, and
Tazz's
"Lucid Dreaming"
, a mesmerizing abstract work that blurs the lines between the physical and digital realms.
The exhibition features numerous other captivating works that build on these themes and take them to new heights. At its core, web3 represents a new world, one that avoids traditional hierarchies and embraces decentralization and a more indifferent approach to the ways in which we view and connect with one another. Through the eyes of the talented artists in the rapidly expanding web3 space, this exhibition offers a tantalizing glimpse into what the future might hold, and the exciting new stories that will emerge as we continue to embrace this transformative technology.